Seed2Feed Foundation helps in initiating projects for creating sustainable food chains near the large urban areas in developing countries. We are active in sub-Saharan Africa, Asia and Latin America in initiating projects, bringing parties together and providing funding solutions and services.
Congo
Kisangani, Congo. In a few years' time Kisangani population has grown from 600.000 to approximately 1 mln. people. The project initiated by the Dutch NGO Bondeko Foundation to create an area of 13 hectares for vegetable growth and cattle is set up as a joint development by local community in Congo, Bondeko foundation and Seed2Feed Foundation.
Kenia
Nairobi, Kenya, last 20 years Nairobian population doubled to approximately 4 mln. people
The project in Nairobi involves upscaling an existing horticulture project by providing funding solutions and creating access to retail and is a joint development by Rabobank, Rijk Zwaan, Koppert Biological Systems, SNV, Holland Greentech and Seed2Feed Foundation.
Ghana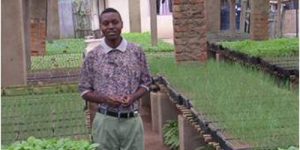 Accra in Ghana inhabits approximately 2 mln. people. The project is set up to improve horticulture techniques in Ghana in order to enhance vegetable growth productivity by a minimum of 15%. Several parties, including Seed2Feed Foundation joined forces with Delphy to advise on possible improvements, including concept development, capacity building and access to retail.
Uganda
In Uganda, protected cultivation of vegetables is in it's early stages. Together with local entrepeneurs and a student team assisted by Holland Greentech, Seed2Feed facilitated first steps in greenhouse cultivation in Kisoro area, Uganda.
Nigeria
Nigerian city Lagos is expected to grow to be the third largest city in the world by 2050. Today already 25% of Africans are Nigerian. Seed2Feed works together with Nigerian partners like Nihort, The African Farmers Stories and JMSF agribusiness in horticulture value chain development.